The Toyota AE86 (Toyota Corolla DX/Toyota Corolla SR5/Toyota Corolla GT-S in North America) is a
Japanese automobile that was introduced in 1983 and discontinued in 1987. Being an entry-level coupe/hatchback, it is always available until the introduction of Shutokou Battle X/Import Tuner Challenge.
Because of its lightweight body, these cars were very popular on the mountain passes and in the tuning community, along with its spotlight in the manga Initial D.
Toyota Corolla Levin (AE86L)
Edit
The Toyota corolla levin 3door GT Apex is one of the AE86's variants, fitted with flushed headlights and a much more simple system compared to its later counterpart, the Trueno.
Toyota Corolla Levin 3door GT Apex Specfications
Max Power: 130ps/6600rpm
Max Torque: 15.2kgm/5200rpm
Displacment: 1587cc
Aspiration: Normal
Engine Type: L4 (4A-GE?)
Drive Type: FR
Wheel Base: 2400mm
Tread F.: 1345mm
Tread R.: 1355mm
Mass: 950kg
Toyota Sprinter Trueno (AE86T)
Edit
The Toyota Sprinter Trueno 3door GT Apex is the later variant of the AE86, and a much more sophisticated and popular model, as examples prove to be expensive; when sold by a private party, they tend to fetch a high price.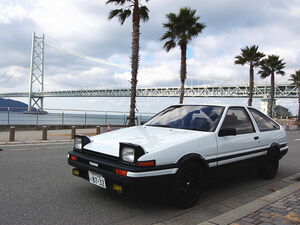 Toyota Sprinter Trueno 3door GT Apex Specfications
Max Power: 130ps/6600rpm
Max Torque: 15.2kgm/5200rpm
Displacment: 1587cc
Aspiration: NA
Engine Type: L4 (4A-GE 16V)
Drive Type: FR
Wheel Base: 2400mm
Tread F.: 1345mm
Tread R.: 1355mm
Mass: 950kg