The Nissan Cima (sold as the Infiniti Q45 in North America) is a Japanese Luxury sedan that is a competitor to the Toyota Celsior/Lexus LS430. The GNF50 Cima appears in Tokyo Xtreme Racer 3 and in Import Tuner Challenge.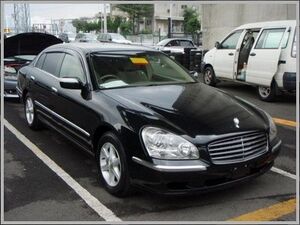 Tokyo Xtreme Racer 3
Edit
The Nissan Cima 450VIP Four is unlocked by defeating Bloody Rose (Max Racing team leader). This version is 4 wheel drive.
Import Tuner Challenge
Edit
The Nissan Cima 450VIP is available from the start of the game. This version is rear-wheel drive, but otherwise simiar to the Cima 450VIP Four.
Specfications (TXR3) Edit
Max Power: 280ps/6000rpm
Max Torque: 41.0kgm/3600rpm
Displacment: 4494cc
Aspiration: NA
Engine Type: V8
Drive Type: 4WD
Tread R.: 1580mm
Tread F.: 1560mm
Wheelbase: 2870mm
Mass: 1900kg