The Nissan Cefiro is a Japanese sedan that was introduced in 1988 as a 1989 model and was discontinued in 2003. The CA31 generation of the Nissan Cefiro was introduced between 1988 and 1994. It appears in Tokyo Xtreme Racer: Zero and in Tokyo Xtreme Racer 3, the TXR3 version is the Cefiro Cruising model.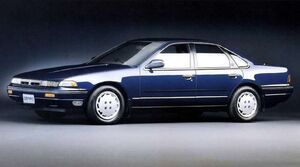 Tokyo Xtreme Racer: Zero
Edit
Info will be added as soon as it becomes available.
Tokyo Xtreme Racer 3
Edit
The Cefiro Crusing is available from the start of the game. It also goes by the name Maxima.
Customized Versions
Edit
Main Article: Mountain Conductor
The Mountain Conductor is driven by the DARTS member Mountain, Kaneko, and is the only custom version of this car but it is lighter and faster than the stock Cefiro.
Specfications
Max Power: 205ps/6400rpm
Max Torque: 27.0kgm/3200rpm
Displacment: 1998cc
Aspiration: Turbo
Engine Type: L6
Tread R.: 1455mm
Tread F.: 1450mm
Wheelbase: 2670mm
Mass: 1360kg