Jintei is a Boss in Tokyo Xtreme Racer 3, and the final boss in Stage 2 at Tokyo once all other rival teams and bosses are defeated. He drives a custom blue Nissan Skyline GT-R, called Emperor (R34CuEM).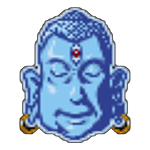 Name: Motoya Iwasaki
Job: Unauthorized
Car: Emperor
Motto: Blow secession
Career: 5 years
Driver Info
Edit
"He was a driver, who, appeared on the highway and in no time climbed to the top. But he lost to a certain driver and it was thought that he left the highway forever, but returned with increased power."
Car Info
Edit
"After placing a significant distance at the starting point, he further continues to make even more distance. He has a body rigidity and undercarriage which withstands that incredible horsepower."
Appearance
Edit
He appears after all of the other Tokyo bosses are defeated. After defeating Jintei, he can be found on the Wangan Out (Tokyo) anytime.
In the Japanese version of the game, Jintei is known as Speed Emperor.
During battles, Jintei's car will have blue electricity flowing around his car.
This page is still under renovation. Information is being added as it has become available. すみません! (Excuse me, also translated as "sorry").
Community content is available under
CC-BY-SA
unless otherwise noted.